Speed and high-speed electric trains
Sapsan

Allegro

Lastochka

Production of electric trains
at Uralskiye locomotivy Ltd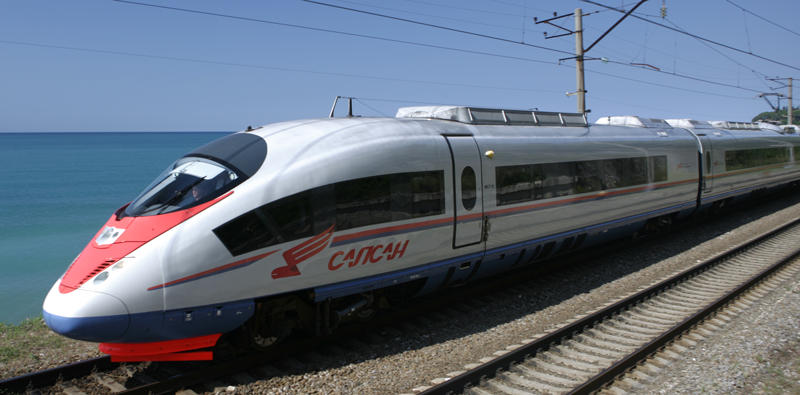 The major result of the Higher-Speed and High-Speed Transportation Development Program is commercial exploitation of electric trains produced by Siemens AG Velaro RUS. In Russia they were named Sapsan. Functional speed of the trains is 300 km/h, operational speed – 250 km/h.
In December 2009 Sapsan started providing high-speed transportation services first in Moscow–St Petersburg line then in Moscow–Nizhny Novgorod line in July 2010. Now 7 electric trains have been put in ope
In December 2011 Russian Railways and Siemens AG concluded a contract for an additional supply of 8 high-speed Sapsan electric trains and an agreement for their technical support for 30 years. Electric trains delivery to Russian Railways is scheduled for October 2014 – May 2015. The new eight trains will set to work on the Moscow–St Petersburg line. The distinguishing feature of these trains is double train set function. It will provide higher train capacity without increasing the number of train pairs.
20 coupled cars will be 500 meters long, the train will admit 1024 passengers. All the cars will have an Intranet connection.
In December 2013 2 rolling stocks of Sapsan arrived in Russia. The electric trains are being delivered ahead of schedule.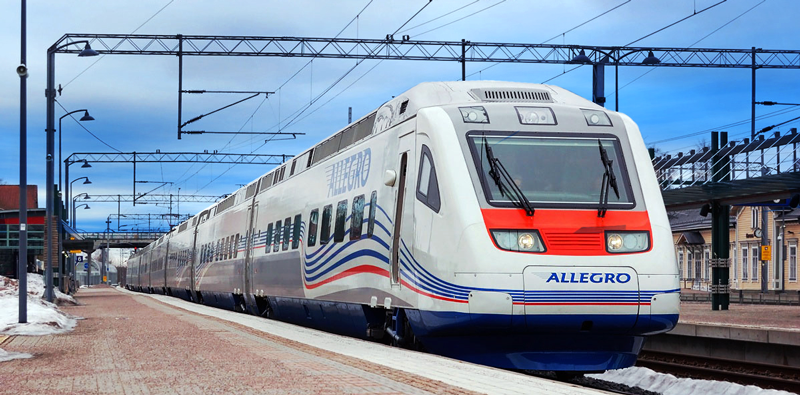 We are developing higher-speed transportation on the St Petersburg–Helsinki route. Russian Railways and Finland Railways established a joint venture Oy Karelian Trains Ltd which bought 4 sevencar double-fed electric trains Repino Bt6 from Alstorm within the framework of an international tender. The trains have a functional speed of 220 km/h and 344 seat capacity.
In December 2010 a new high-speed service commenced between St. Petersburg and Helsinki , which helped to reduce travel time between two cities (415 km) to 3 h 36 min. Customs and passport control is conducted during the journey.
In November 2013 modernization of banking systems on 4 sets of Allegro electric trains was completed. Compared to a standard rolling stock structure the system helps to significantly increase curving speed providing safe and comfortable transportation. It does not require changing its geometry and current track leveling.
Currently there are 4 Allegro train sets providing movement of 4 train pairs per day.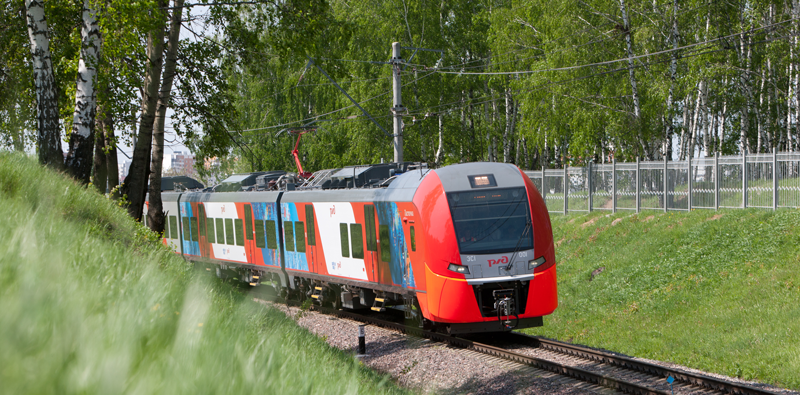 Within their cooperation framework Russian Railways and Siemens AG signed a contract in December 2009 to design and supply electric trains of the ES1 series Lastochka (factory name Desiro RUS) intended for operation in suburban areas.
The primary task of the trains is providing passenger transportation services in the section Sochi – Adler – Alpika Service during the Olympic and Paralympic Games in Sochi in 2014.
In 2012 the electric train Lastochka passed the complete cycle of preliminary acceptance inspections and certification tests. Last January they were put in supervisedl operation on the section St Petersburg – Bologoye, St Petersburg – Veliky Novgorod.
The electric trains operate on the section Moscow-Nizhny Novgorod, Sochi-Sochi Airport. During the first ten days of June 2013 we organized passenger transportation using these electric trains on the section Kazan–Kazan Airport to deliver visitors and participants of the XXVII World Summer Universiade in Kazan in 2013. With the opening of a new railway section Adler-Krasnaya Polyana of the North Caucasus Railways on November 1, 2013 the electric trains Lastochka operated according to the schedule designed to organize transportation services at Sochi-2014 Olympic Games.
In 2013 45 electric trains of the series ЭС1 Lastochka were delivered to Russia and by the end of the year all of each were involved in commercial use.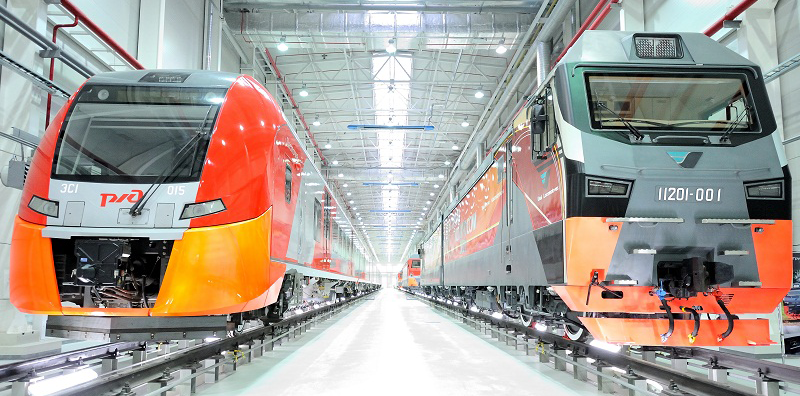 In September 2011 Russian Railways and Uralskiye locomotivy Ltd (a joint venture of CJSC Sinara Group and Siemens AG) signed a delivery contract for 1,200 cars for electric suburban passenger trains designed on the basis on electric trains series Desiro RUS. The electric trains will be produced by Uralskiye Locomotivy Ltd by the end of 2017. The level of production localization must reach at least 80% of the cost of the train.
In the course of the fiscal year Uralskiye Locomotivy Ltd. conducted wide-scale construction of new production areas on its territory. Last November there was an official opening of the production complex designed to produce a new generation of electric train.