Major results of implementing Russian Railways Program of Innovation Development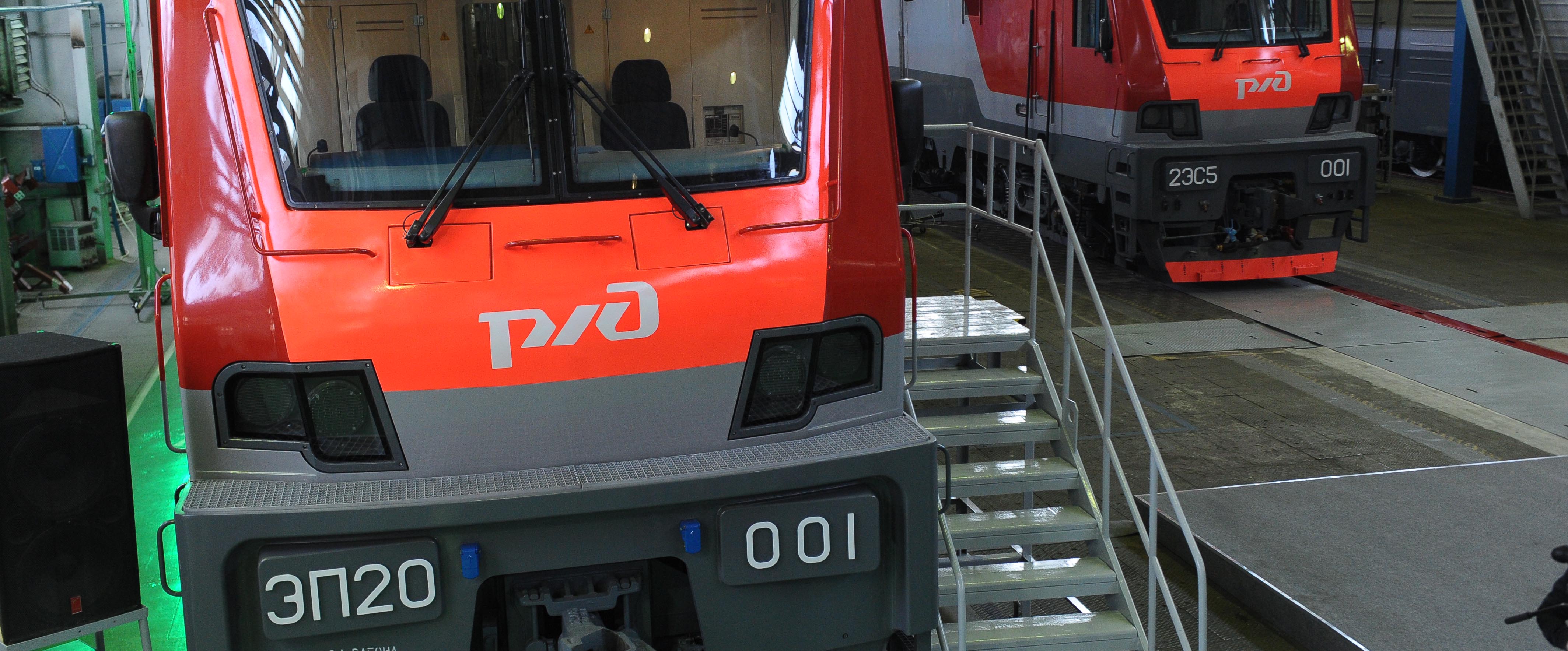 | | | | |
| --- | --- | --- | --- |
| Transportation and Logistics Management Program | Infrastructure | Rolling stock | Increasing operation reliability and operational resource of technical means |
Tasks
Introducing freight delivery technologies on "door-to-door" and "just-in-time" principles.
Increasing efficiency of transportation process by introducing innovation technologies and new technical means..
Developing and introducing technologies to organize operation of freight trains according to schedule.
Integrating into the Euro-Asian Transportation and Logistics System on the principles of logistics management.
Results
We introduced an information planning regime for the automatic system controlling train movement in the section St. Petersburg-Moscow.
We expanded the field to introduce technologies for scheduled freight train operation.
APK "Elbrus" - automatic system for forecasting optimal daily energy - was introduced in the testing field Chelyabinsk-Inskaya.
We established five Traction Resources Management Centers.
The Sorting Stations Developing Program was updated up to 2025.
Tasks
Harmonized development of transportation infrastructure on the basis of imitating transport network models.
Designing normative-methodical base to calculate resistance, safety, resource and risks parameters.
Developing normative-methodical base to provide product quality.
Developing normative-methodical base to construct high-speed main lines.
Introducing new materials and structures.
Introducing a system of infrastructure complex diagnostics.
Results
Reduced number of failures at infrastructure facilities by more than 10% by 2011.
Developed hardware and software and technologies of complex automatic control for rail joints at rail-welding enterprises.
Dynamic laboratories were designed to test infrastructure with axle loading 27 tons and speed 200 km/h.
Introduced technologies for railway repair and reconstruction using coordinate methods based on satellite technologies GLONASS/SRB and CDTN.
Introduced technologies to reconstruct alternative current traction substations on the basis of relocatable buildings.
Introduced composite glass structures for infrastructure facilities and passenger railway facilities.
Normative and technical documentation was prepared to evaluate reliability and safety of infrastructure facilities.
Tasks
Developing normative-methodical base to control rolling stock life cycle.
Increasing axle loading.
Increasing speed limit.
Reducing dead weight of freight cars.
Developing product range of locomotives with asynchronous traction motors.
Introducing alternative energy sources for locomotives and special self-propelled rolling stock.
Results
Acceptance inspections of locomotives 3TE116Uwere conducted.
Produced shunting diesel locomotive TEM19 with gas engine and gas turbine locomotive GT1I-002.
Serial production and operation of  mainline doubly-fed passenger electric train with asynchronous traction motor EP20 with engineering speed 200 km/h.
Designed and produced two prototypes of mainline freight accident current electric train with asynchronous traction motor 2ES5 with 25 tons axle load.
Prepared technical requirements and technical project for mainline freight accident current electric train with asynchronous traction motor 2ES5 with 25 tons axle load.
A 4-axle flat car for piggyback container transportation was designed and certified.
A multipurpose box car with operable walls and 25 tons axle load was tested in lines.
Tasks
Designing and introducing technology to manage resources and risks at lifecycle phases based on safety of traffic management system (

STMS

)
Results
Introduced STMS technology at track facilities, automation and telemechanics, electrification and energy supply management units.
Approved STO RZD 02.037-2011.STMS. Regulating cost of lifecycle of systems, devices and equipment at Russian Railways management units.; STO RZD 02.0412011 STMS. Systems, devices and equipment of track facilities management unit. Reliability and functional safety requirements; STO RZD 02.043-2011 STMS. Systems, devices and equipment of electrification and energy supply management unit. Reliability and functional safety requirements; STO RZD 02.044-2011 "STMS. Terms and definitions".
The Company approved methodologies to calculate reliability and operational safety indexes and evaluate risks for infrastructure management units.
The number of 1st and 2nd category technical equipment failures (impacting train schedule) has been reduced by 9.6%.
The Company's key indicators that show growing innovation development are volumes of purchased innovation technical means, growing labour productivity, energy efficiency of transportation process and volumes of heavy hauls transportation.
Currently the Company's intellectual property portfolio accounts for more than 2000 protection documents, more than 1000 of which are invention patents and useful models. Correspondently the Company's non-material assets are growing. As of December 31, 2013 they cost 8.2 billion roubles.
In 2013 R&D costs decreased compared to the previous year (by 0.8%). They amounted to 7.28 billion roubles (0.53% of profit). This rate is consistent with comparable international companies .
Number of received patents and certificates for PC and DB
(by the end of the year, units)
Russian Railways innovation development indexes