Transportation and logistics business unit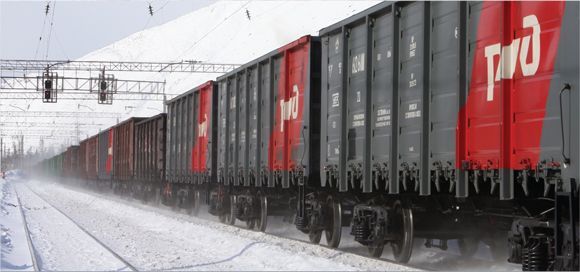 Main objectives of the development of the transportation and logistics business unit of the Group:
improving the competitiveness of the Group in the freight transportation market
Increasing the share of high loads while meeting the growing demand for bulk cargo transportation;
Building long-term relationships with customers, improving customer feedback;
Increasing flexibility and expanding business in deregulated segments with the effective provision of services in the natural monopoly segment;
Developing logistic capacities to meet customer needs for comprehensive services, including for global transport chains
Increasing the transit cargo transportation by 2-3 times by 2030;
Developing new products and services in rail transport;
Strengthening relationships with key partners in the transport market;
Ensuring sustainable cash flow growth for the development of the transportation and logistics business and infrastructure;
Reducing the risks associated with the high volatility of commodity markets and the volatility of export flows.
To achieve the set objectives Russian Railways Group implements the business model of an international transportation and logistics company through the development of business in the segments of operating rolling stock, terminals and warehouses, logistic services and logistics outsourcing and international transportation. Systematic work to improve and enhance the attractiveness of basic rail transport service will continue.
Transport and logistics services market forecasts show sustained trends prevailing in recent years:
Shares of logistics, freight forwarding, warehousing services in the transportation and logistics market will grow;
Higher budget financing of highway development will remain, the density of the road network will significantly increase;
the rate of growth of road transport by 2030 will be twice the rate of growth of rail cargo turnover;
Implementation of projects aimed at expanding pipeline and product supply line network will continue.