Russian Railways infrastructure support

Central Infrastructure Direction – the division of Russian Railways which maintains the Company's infrastructure and is the largest division of the Company. It employs 318 thousand people.
The main components of Russian Railways infrastructure complex are the following:
Track and facilities management unit
This is a multifunctional complex, it accounts for roughly a half of major railway funds, a quarter of operational expenses and one fifth of railway personnel from the main areas of activity.
The major task of the track and facilities management unit is to maintain tracks and facilities in a condition that guarantees non-stop and safe train movement.
Structural subunits maintaining tracks and man-made facilities include the track maintenance department and engineering facilities.
As of December 31, 2013 the Central Infrastructure Direction included 8 administrations, 378 track maintenance departments, 16 engineering facilities departments and 79 operational railcar depots.
Enterprises of the Track and facilities management unit make running repairs and provide technical support for cars, their cleaning and sanitation and prepare cisterns for pouring.
Key tasks in infrastructure sector:
Developing infrastructure to prepare and conduct the Olympic Games;
Meeting targets on the project "Development of Moscow Traffic Center";
Beginning to implement projects to develop Eastern polygon railway infrastructure;
Preparing and approving the program aimed at providing safe transportation on the Zabaikalskaya railway.
Automation and telemechanics facilities
Automation and telemechanics management of the railroad automation and telemechanics system (RAT) is a combination of technical means used to control and manage railway stationary track facilities and vehicles at fixed operational safety level.
Railway automation is based on signals and interconnection providing safe railway operation given centralized control and management of track facilities of railway stations and lines.
Implementing 2013 Investment program of the Central Infrastructure Direction
The Investment program of the Central Infrastructure Direction is aimed at renewing funds, eliminating infrastructure limits of the Direction's management units, increasing safety in operation and optimizing operational expenses..
2013 investment budget of the Central Infrastructure Direction has been fully completed – 115.5 billion roubles have been assimilated.
Russian Railways infrastructure
complex employs
318
thousand people
Investment budget of the Central Infrastructure Direction in 2013 is
The budget has been fully completed
Completing investment budget
Track and facilities
management unit
98.8

RUB bn

3.98 thousand km of track superstructure was reconstructed; 1,569 sets of rails switches were replaced; 10 stations (316 running lines) were equipped with electrical heating; 14 protective barriers were installed along lines.
Electrification and power supply
9.8

RUB bn

391 km of aerial contact wire and 141 km of automatic blocking lines and longitudinal power supply lines were renewed, equipment at 31 traction substation was modernized, 14 telemechanics systems and 15,000 of contact system masts were replaced.
Automation and Telemechanics
5.3

RUB bn

233 power switches, 29.5 km of automatic blocking lines, 502 km of centralized traffic control systems were renewed, 100.5 km were equipped with two-side automatic blocking systems.
Rolling stock
1.6

RUB bn

7 equipment sets for training car inspectors, 10 automatic railcar brakes diagnostic systems, 1 car repair machine, 9 gantries, 4 systems to control defects on wheel threads were purchased.
Main results of track management in 2013
In 2013 we reconstructed and repaired 10 thousand km of track.
Track recovery helped us:
Increase train speed to 2,740 km for passenger trains and 2,270 km for freight trains.
As of 2013 results showed that the speed limit for passenger trains increased by 1.6 km/h for freight trains – by 1.0 km/h. The weighted average speed of passenger trains in the network was 93.1 km/h
and 74.3 km/h for freight trains. Improved infrastructure of St.Petersburg – Moscow line as a result of track repair helps to increase train speed up to 230 km/h.
Make train operation more reliable by increasing:

continuous welded rail was increased by 2.44 thousand km. By the end of 2013 its length on main lines was 85.87 thousand km or 69% of its total length;
reinforced concrete sleeper rail was increased by 2.88 thousand km –that is 74.6% from main line length;
rails with separation layer increased by 2.79 thousand km.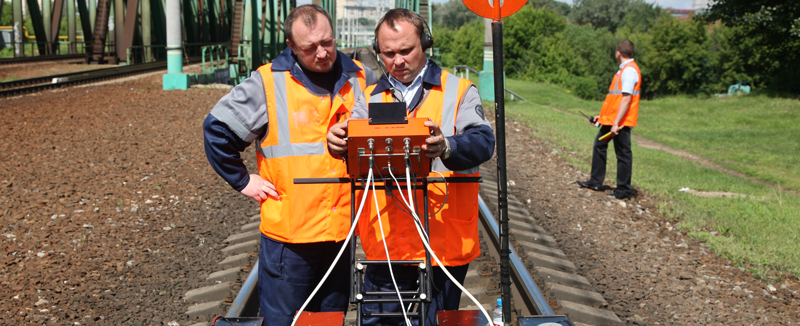 Rolling stock
In 2013 continuous welded rail was lengthened by
The length of continuous welded rail is 85,870 km
Rolling stock includes:
80 operational railcar depots;
445 technical support stations;
266 current uncoupling repair stations;
85 stations to prepare railcars for loading.
Track repair works performed by the Central Infrastructure Direction, thousand km.
Length of continuous welded rail including elastic fastenings, thousand, thousand km.
Higher efficiency of railway operation
In November 2013 the Science and Engineering Council of Russian Railways approved the Complex program to increase efficiency of railway operation and innovation technologies of its technical support.
The program stipulates using a complex of organizational, technical and technological solutions which guarantee design, production and delivery of track maintenance complex including innovation superstructure materials, diagnostics means and maintenance vehicles. We prepared and launched a delivery program for combined maintenance vehicles. Thus we can optimally use human resources in remote areas.
Key targets of the Program are reaching 1.5 billion gross tons by 2020 against the current 700 million gross tons (increased by 2.1 and reducing the lifecycle cost by 20% taking one year of operation.
More reliable operation of railway infrastructure
As of December 31, 2013 length of lines equipped with automatic blocking (AB) in the Russian railway network was 60,978 km.
In 2013 the number of incidents linked with railway safety violation in automation and telemechanics management unit fell from 19 down to 13 compared to 2012.
A number of investment projects are being implemented in railway network in automation and telemechanics management to renew RAT means and increase railway capacity.
Modernization of RAT technical means with double useful life helped to increase railway safety and reliability of equipment operation; diagnostics systems and remote railway control provide maximum identification of pre-failure conditions of RAT technical means.
Weighted average speed limits within network, km/h
Number of incidents linked with railway safety violation